Highview Terrace Residence, QLD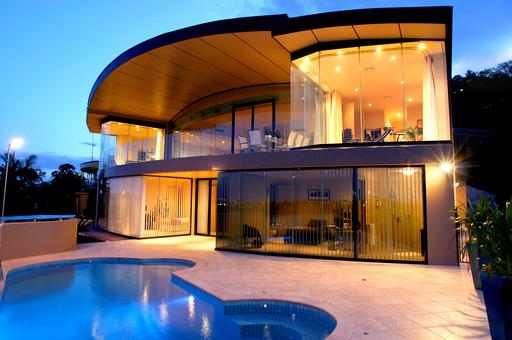 Highview Terrace Residence, QLD
This multi-million dollar house site is located on the side of Mt. Cootha, overlooking Brisbane. With views to Morton Bay and Islands, the home was designed to take maximum advantage of this spectacular vista.
Description
The size of this home dictated a need for central control of the lighting systems. Because the owner wasn't 100% sure as to what he required, he wanted a flexible system to adapt to changing requirements. So after being introduced to Hager's building automation system he chose to ahead with the system. The electrical contractor was able to wire the various lighting loads and switches to the control system and later select the output modules (dimmer or I/O). Garage lighting timed out via a motor interface switch module.
The lighting scenarios were programmed in after the house was fitted out, to blend in with the decor. Most importantly, the home owner wanted a system that he could adjust by himself, as required. The owner can easily set the light levels for various scenes throughout the home. Mr Bonning, the home owner, was quoted in the Brisbane Sunday Mail as saying "the view is everything with this home". As can be seen from these photos, the Tebis TS home automation system shows off this home in it's best light.
PDF Download